Yesterday I visited the Novo Nordisk insulin production plant in
Clayton, North Carolina
, where they make some of the products I use every day. To put it simply… it was really, really cool!
The No. 83 in front of Novo Nordisk in Clayton
Having been to
Honda plant
in Alabama last April and the
Axis factory
in Tennessee in December, it was neat to have a third point of reference in the production industry. At Novo Nordisk it was a bit different in that they have so many restrictions, with FDA and other compliances in addition to their own standards, which they set even higher for themselves. Because of the unique environment that insulin needs to be maintained as far as climate control, light and temperature, the process to put it together is very cool, and they are very, very meticulous about it.
The FlexPen assembly line is really neat; very automated. They've obviously worked very hard to increase efficiency across the line, finding ways here and there to make improvements. As someone who appreciates performance and technical aspects (hey, I'm the son of an engineer—it's in my blood!), one of the things I talked about with various employees and factory workers was how impressed I am with their production line and how they're continually making progress. They even have white board for everybody to make suggestions on how to improve the process.
The results show in the metrics—Clayton is the highest performing manufacturing site. And it's obvious to me why: it all comes down to the people, who take a lot of pride and ownership in how they do their job, just like at Honda and Axis even if it's done with a slightly different approach. At Honda, it's a majority of automation. At Axis, the majority of the work is handmade. At Novo Nordisk's Clayton production plant, it's right in the middle, a combination of automation when possible and many, many hand spot-checks. If there's ever any question about anything, they reject it and take it off the line because of the high level of quality they aspire to maintain.
Along with the site director and vice president from Denmark, we got to cut the ribbon on the new training center in Clayton. It was a lot of fun to be there and it really reminded me of how great it is to have such an awesome partner in Novo Nordisk.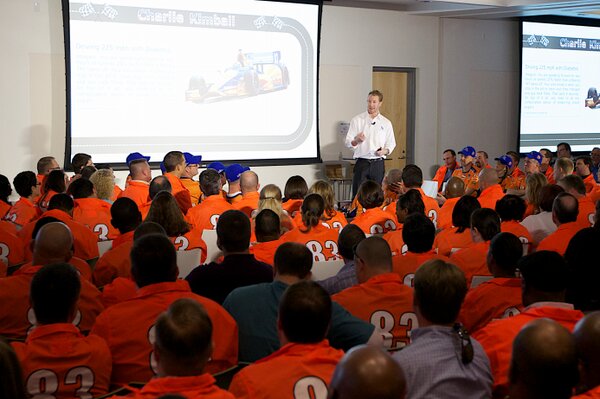 Talking to a group of employees! Photo via @novonordiskus.