Sunday, May 26
6:45 p.m.
What a day... what a weekend! Really happy to have another top-10 finish at the Indianapolis 500. I spent Saturday in bed resting due to a 24-hour bug, but woke up today feeling fresh and ready to go!
The car was really good. We had a bit of a misfire at the start of the race, which is why I dropped all the way to the back in that first stint. Once we figured out what it was and got it fixed, the No. 83 car was really good. I think we really had a great car to go from 33rd to ninth. I don't know if people were counting on weather, but by about lap 50 everyone began to put their game face on so we just had to take positions where we could and move forward when we could. I think if that last restart stayed green we probably had a couple more spots in us too.
I have to thank the Novo Nordisk Chip Ganassi Racing team for a great race car and for their work in the pits!
Can we do this again tomorrow?
Pit stop for the 83 crew.
Pat on the back from the boss.
Friday, May 24
4:00 p.m.
I think the final practice today was really good. We made improvements, not only to the car but to pit stops and race craft. Through the course of the week, we looked at some data and have a good foundation of what we need to do come race day on Sunday. Obviously we'll look through the data and maybe make a few small changes, but I'm really confident in the guys and in the race car. I think we'll be in really good shape for the race!
After practice, I headed to the Novo Nordisk FlexPen Tunnel to meet some fans and winners from a recent JDRF contest. Always a lot of fun! I went straight from my appearance to pit lane for the pit stop competition. Unfortunately we didn't make it to the finals, but the No. 83 crew rocked it as always!
I'm headed into a team meeting, then tonight I'll make a stop at the Firestone Racing event before having a dinner with a few close friends and family members. My parents always host a small group for dinner on the Friday before the Indy 500, which is just a nice chance for me to relax and thank a lot of the people who have supported me from the beginning.
Hope to see you all out at the parade downtown tomorrow!
Pre-practice
Leaving pit lane.
Before the pit stop competition.
Let's go No. 83 crew!
8:30 a.m.
Today is Carb Day. No, we will not gorge on pasta all day. "Carb Day" originally came from "Carburetion Day," named for the final practice session when teams could tune their carburetors before race day. Of course, we don't use carburetors these days but the name has stuck! We do still have one final practice session, so we'll see what we can do with the No. 83 car before Sunday's race. The Novo Nordisk Chip Ganassi Racing Team will also compete in the Pit Stop Competition at 1:30 p.m. I have total faith in the No. 83 team that they will do a great job, as they always do in the pits during races!

I'm about to head to a drivers meeting, so here's a quick run-down of my Carb Day schedule for you to follow along:
11 a.m. - 12 p.m. Final practice (live timing online here)
12:30 p.m. Appearance in the Novo Nordisk FlexPen Tunnel (in the INDYCAR Fan Village)
1:30 p.m. Pit Stop Competition

Also be sure to follow me on Twitter @racewithinsulin for practice and pit stop competition updates!
Thursday, May 23
5:00 p.m.
Another good day at the track, though I'd much rather be in a race car! I had a lot of fun at the fashion show, but I think I'll keep my day job... modeling is not my forte! For media day, all 33 drivers are set up in their own booth while members of the media are welcome to come around and talk to us about the upcoming race, our season, the series, etc. It's a good chance to reflect on the month too.
Now I'm off to The Yellow Party for some fun for a good cause, then dinner with friends. Looking forward to getting back into the No. 83 car tomorrow for our final practice!
On stage at IFF's Fashion in the Fast Lane
Media day!
9:00 a.m.
It was an early start to the day for me, as the Mazda Road to Indy organized a group photo of current and past drivers who have participated in the development program. It was cool to see how many of us have gone through the ranks and even better to see so much young talent out there.
I'm about to catch a quick nap since I've got a busy day planned... the
Indy Family Foundation's Fashion in the Fast Lane
event, engineering meetings, IMS media day,
The Yellow Party
, and dinner with friends.
If you plan to come out to the track for Carb Day tomorrow, be sure to visit me at the
Novo Nordisk FlexPen Tunnel
in the INDYCAR Fan Village at 12:30 p.m. Friday!
Road to Indy on the Yard of Bricks
Wednesday, May 22
4:30 p.m.
Just finished up some time with the No. 83 team, making sure things are set for Friday's final practice session.
I had WISH-TV's Anthony Calhoun at my coach for an interview on race weekend nutrition and managing my blood sugar while in the car. Tune in to
WISH-TV 8
on Thursday at 5 p.m. (ET) to see the full piece!
After the interview, I headed to the Community Day autograph session. We had a great turnout, despite the somewhat rainy weather today. Thanks to everyone who came out!
Tonight I'm headed to a dinner downtown with a presentation for
Novo Nordisk
, then I'm headed to the
Honda Performance Development
tech center in Brownsburg. A good night ahead!
WISH-TV interview.
Community Day autograph session at IMS!
9:20 a.m.
Good morning! It's
Community Day at IMS
... always a fun day to see lots of fans and friends out at the track. I'll be signing autographs at the Plaza Pavilion from 1:30-2:30 p.m. so I hope to see you there!
Yesterday I took a bit of time off from work and recharged, as things will start to get pretty busy now as we gear up for this weekend. My new
Axis Wake
boat has arrived so I took it out on the water for the first time... so awesome! I'll be sure to get some photos soon to share.
We've still got a couple of days until we're back on track so if you are in need of some IndyCar action, check out the newly-released episode of
INDYCAR 36: Long Beach online here
!
Monday, May 20
5:40 p.m.
Finished up with my media day duties and now waiting on my flight back home to Indy! It was a pretty smooth day for me... We had a media luncheon in downtown Milwaukee (near where the Dodgers were staying for their game tonight, since we caught them loading their bus!) and then headed off for a quick tour of TV and radio interviews. All in all, a good day of promoting the 500, the series, and previewing the race at the Milwaukee Mile in a couple of weeks.
Tomorrow I plan to have a relaxing day away from the track... Just a chance to recharge my batteries and get refocused for the weekend!
Time Warner in-studio interview.
WTMJ-4 at the media luncheon.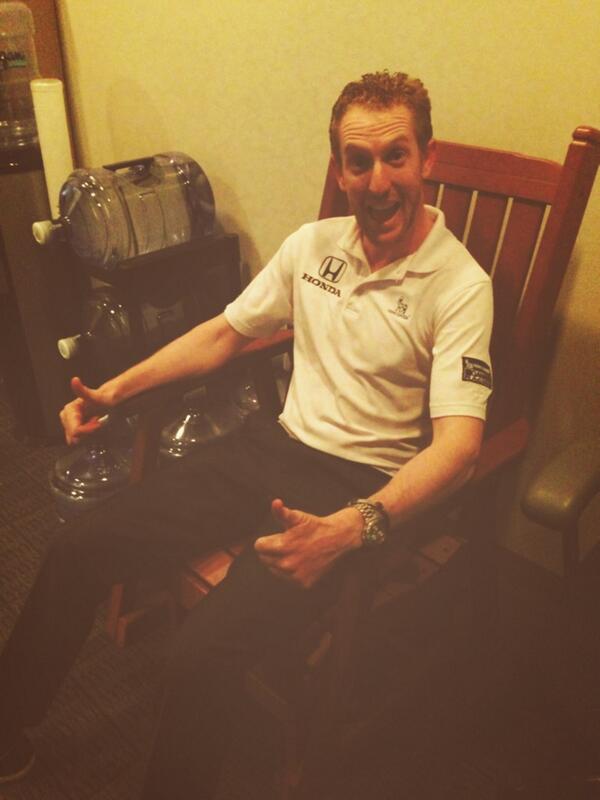 Having a rockin' good time! Get it?!
7:15 a.m.
I'm back at what feels like a second home, the Indianapolis International Airport, headed to Milwaukee for the Indy 500 media day. Today this year's 33 drivers will be all across the country, helping spread the word about the action on track this Sunday--the Greatest Spectacle in Racing! As always, I'm honored and humbled to be a part of it.
Sunday, May 19
6:00 p.m.
Today was a great day, for not only the No. 83 team but the whole CGR teams. We mainly focused on the race car, going out for a few long runs. We tried a few things, and we worked with our teammates, trying a couple of things they did. Some stuff worked, some things didn't. In the end, we've all kind of circled back to similar setups. It's one of the great parts of Chip Ganassi Racing, having quality teammates to work with and learn from. Now we have a little down time, to get rested and get ready to go racing next weekend.
Tomorrow I'm headed to Milwaukee for the annual Indy 500 driver media day. Be sure to follow me on Twitter
@racewithinsulin
and the hashtag
#Indy500MediaDay
for updates!
Practice pit stop.
Front wing changes.
Saturday, May 18
7:00 p.m.
I think today we maximized our opportunities. We did a really good job of working with our teammates today. We were able to get all four Chip Ganassi Racing cars qualified in the first day and once you're in the race you can go racing. We spent a lot of time this week working on race setup and that's really where it matters, getting it done in the race. I give a lot of credit to the Novo Nordisk guys. Today is a long, hard and stressful day for the crew and everyone involved. They kept their cool, they did the right things. We qualified 19th,
so we'll start there and get ready to go racing.
In line for qualifying.
Ready to go!
On deck.
Post-qualifying interviews.
Team photo.
Post-qualifying press conference.
8:00 a.m.
It's Pole Day! One of the most intense days of the season for sure, but also most exciting.
Before we can get to qualifying, we have morning practice. I'm in group 2, so we can go out at 8:30. We'll likely go out when I can get some solo laps in.
Be sure to follow me on Twitter @racewithinsulin for updates from my Pit Lane Reporter while I'm in the car! Tune into live qualifying coverage on NBC Sports Network:
11 a.m. - 2:30 p.m. (Eastern) Qualifying, P1-24
4:30 - 6:30 p.m. (Eastern) Fast Nine Qualifying
Friday, May 17
10:30 a.m.
Just finished up with a media availability with my teammates. Today is Fast Friday, which means we get an extra boost of power from Honda. We like to go quick, so the opportunity to go quicker? Even better! We'll work a bit on our qualifying setup today and see what track time we get, with the possibility of rain later.
Thursday, May 16
6:30 p.m.
Today was another really good day of practice. We spent a fair amount of time working on race stuff. We did a couple of solid, full-tank, new-tire runs in traffic. The car feels really stable. I think we made progress and found a couple of things today that some of my teammates ran and liked, and I agree with them. So we went in that direction, as well. I think we're in really good shape for next Sunday. Now our focus kind of shifts to qualifying on Saturday. Obviously with Fast Friday tomorrow, we'll get a little more boost. As race car drivers we always like to go faster, and I think we have a good shot with the No. 83 car as we increase that boost. We're going to trim out the car and see what we can get out of it.
Going out for the first laps of the day.
Pitting!
Talking to engineers during a yellow.
10:30 a.m.
Just finished up with a drivers meeting. It's a sunny morning here at IMS but it looks like we might have some rain later on today. We'll try to get out early and get some track time before the weather changes.
Wednesday, May 15
6:25 p.m.
What a day! I had a couple of members of the Colts team as guests here at the track for a couple of hours. It was cool to show them my "office" and all of the behind-the-scenes action of the Indianapolis Motor Speedway! I totally become a football geek when I have the chance to go to games, so it was neat to do the same for them.
Moving to on-track... we ran through a lot of stuff this afternoon. We did nearly 70 laps in different conditions, both early in the afternoon and late in the afternoon. We worked on a lot of race stuff and are still focusing on next Sunday, for the race. We have to make sure that the No. 83 car is going to be happy in different situations and different conditions, whether we're running in traffic or running by ourselves. We worked on some developmental stuff, just to make sure we have as many tools in our toolbox as possible come race day. I think the car is pretty happy. We just have to keep making adjustments and paying attention as things develop. Obviously, as we're getting closer to the end of the week we'll start looking towards qualifying. What's really important is what happens a week from Sunday, not necessarily what happens on Saturday in qualifying. Saturday is important; it's just not the only important thing ahead of us. All in all, today was a really good day for the No. 83 team.
Early afternoon practice.
Jumping back in the No. 83 car.
Garage tour for our Colts guests.
Griff takes a seat in my office!
Hanging out in pit lane.
11:30 a.m.
A great job by the No. 83 guys... Ended up with the second quickest time in the pit stop competition qualifications at 8.950 seconds! Always can count on them to be fast on pit lane.
We'll likely run as soon as the track goes green at noon, so I'm just grabbing some lunch before heading out.
8:50 a.m.
Good morning! I had a lot of fun at Riley last night. The kids were so excited and had a lot of great questions about IndyCar Hopefully they'll all be rooting for the No. 83 on race day!
I got to the track just a little while ago and am headed out to pit lane now. This morning the No. 83 team will compete in the pit stop competition time trials, for a spot in the actual contest later on. I have total faith in the guys and I know we'll be quick!
Keep following me on Twitter @racewithinsulin for more behind-the-scenes action!
Tuesday, May 14
6:30 p.m.
Today was a good day. As far as weather conditions, it was the first time we really had warm on-track temperatures. A lot of times, race day temperatures are this warm and this windy so we tried to do as much as we could with the No. 83 car in race trim. We ran with my teammates on full tanks and did a long run to see how the tires were holding up and see how the car was going to do. We did a few hot stops and pit stops with launches to get the guys warmed up. Everything feels really good. Towards the end of the afternoon, we thought we may have lost it a little bit but we made some changes and put the car right back in the ballpark so everything is good. It's just a question of what the weather does towards the end of this week and make sure we can keep it in that range and make sure we can be competitive as we trim it out for qualifying.
I'm just finishing up a meeting with my engineers, then I'll head to Riley Hosptial for Children for their annual Indy 500 party. It's always a fun chance to meet a great group of kids and hang out with them for a bit.
10:15 a.m.
Good morning! It's a bright, beautiful day in Indy. Looks like we'll finally be getting some warmer track temperatures during practice later today. I just got finished doing a video blog with my teammate Ryan... stay tuned for the final product!
Interviewing Ryan this morning. Photo via @CGRteams.
The No. 83 team will likely be spending a lot of time on track today, so be sure to check out
racecontrol.indycar.com
for live timing and video. Also follow
@racewithinsulin
on Twitter for updates from my Pit Lane Reporter (PLR)!
In case you missed it, here's my interview from yesterday on WISH-TV's Indy Style:
Monday, May 13
6:30 p.m.
Another good day in the No. 83 car. The Novo Nordisk Chip Ganassi Racing guys were on it. We just worked through our program, went through a couple of engineering changes, and we will just keep working toward our program and the end of the week. We'll have to see what the weather does but today turned out to be a really nice afternoon. There's every likelihood that tomorrow will be beautiful so we'll inevitably do a lot of running then and we'll be in good shape for Wednesday, Thursday and Friday. We'll just keep working in that direction.
I'm quickly changing then heading to dinner with the boss, Dario, Scott, and Ryan!
First laps of the day in the No. 83
Happy Hour practice
11:30 a.m.
Busy morning already! Earlier I went to the WISH-TV studios for an appearance on "Indy Style." Always a fun interview! Then I headed to the track for a quick photo shoot at the motorcoach, but first picked up Long's Donuts (a must-stop for breakfast in the Indy area) for the No. 83 team. A happy crew is a speedy crew, right?!
Just grabbing some lunch before we head out to the track around 12:30 or so for practice. Catch live timing and video at racecontrol.indycar.com!
Sunday, May 12
6:30 p.m.
Today was a good second day at IMS. We shook the primary car down and went through a couple of changes. It's still early in the week and we're still trying to get a handle on where the track is going to be, especially as we get closer to qualifying at the end of the week. It was a good opening weekend. We're really happy with the pace of the car. As far as knowledge of what we've got heading into the week of practice, I think we feel pretty good. We've got a good foundation, and we'll keep working on the No. 83 car and get quicker all the time. The guys have been really good on practice pit stops. We'll keep working on that too because I know they'll be rock solid on race day.
Tomorrow morning I'm headed to
WISH-TV for an "Indy Style" interview
. If you're in the Indy area, be sure to tune in! I'll be live at 9 a.m.
Don't forget to follow me on Twitter
@racewithinsulin
for updates during on-track sessions from my Pit Lane Reporter!
First laps in the primary car.
Happy with today's progress!
11:00 a.m.
Happy Mother's Day to all of the IndyCar-loving moms out there! And especially to my own mom--can't thank her enough for her support. Can't wait to see you later this month, Mom!
The No. 83 crew is switching from the backup car to the primary car today, so we won't be on track until a bit later. It's another chilly day here in Indy, but the sun is out and we're at the Indianapolis Motor Speedway so life is good!
While we're off track, check out some news from earlier this week:
Diabetic race car driver visits children with diabetes
Race car driver visits kids at Memorial Hospital
Diabetes won't slow Indy 500 driver
Saturday, May 11
6:00 p.m.
Today was a great start to the month of May. The No. 83 backup car gave us a good baseline to work from. We made a couple changes, and I think that made a lot of sense. We were able to work around the weather a little bit and work around rookie orientation practice. The crew has been working really hard, so I think that we're going to try and focus on the rest of the month now and run the primary car. We still have to see where the track is going to grip-up. Right now, there's very little rubber down and we'll see where we go. Hopefully, it's not 60 degrees on race day, and it's closer to 80, and we'll be in good shape.
Heading to an engineering meeting before a nice dinner out. Looking forward to day 2 tomorrow!
2:15 p.m.
Not a bad start! We did an install lap and a couple of baseline runs in the No. 83T car. The guys are making a few changes to the car now, and we'll likely go back out after the rookie laps are done.
Already meeting a ton of fans here at IMS today! Thanks for coming out, even in the chilly weather!
10:00 a.m.
Good morning from the greatest place on earth... no, not Disney. The Indianapolis Motor Speedway! Though this is considered "Opening Day," it's hardly Day 1 for us. The Indianapolis 500 is one you work for all year and think about every single day!
I think my favorite part of living in Indiana is being part of Indianapolis during the month of the May. That excitement, that enthusiasm it brings to the whole city the town of Speedway, all of the different events, the chance to interact with fans, and most importantly going 225 mph around the greatest race track in the world.
We'll be on track early today, get the No. 83 car shaken down, get ready to go, and start working through our program for the rest of the month. About to head to our first drivers meeting of the month.
Check out live timing and scoring (AND... live streaming video!) for all practice sessions at IMS at
racecontrol.indycar.com
! More info and an on-track schedule
here
. If you're in Indy or plan to be during the month of May, click
here
to find all of my public appearances! Hope to see you soon.