Sunday, April 7
5:45 p.m.
The whole team did a great job this weekend, from the guys in the pits to the engineering staff working on race strategy. I just had to get it done on the race track. We started to see some real improvement at St. Petersburg, but didn't really get the result we deserved. But it all came together for us today and it feels great. I'll have to talk to Novo Nordisk into letting me run the
Race With Insulin
paint-scheme all year! To have all the Chip Ganassi Racing Teams represent blue rims this weekend meant a lot. Jamie McMurray finished top-10 in Martinsville today and the GRAND-AM boys finished top-five yesterday. It's been a great weekend for diabetes awareness and the whole
Novo Nordisk Chip Ganassi Racing
crew.
I'm just now heading out of the track to get some BBQ before taking a flight home tonight. Thanks for the support all weekend long! I appreciate it.
Pre-race on the grid.
Post-race interviews
8:15 a.m.
Happy race day! I think it's going to be a good day for the
Novo Nordisk Chip Ganassi Racing
team. It's been a special weekend, both with on-track results and having the support for the Race With Insulin Unites initiative from the whole Chip Ganassi Racing organization. On that note, congrats to Steve (@Zabel311) for being named "Honorary Crew Chief" for the No. 1
Race With Insulin
car, driven by my Ganassi teammate Jamie McMurray in today's NASCAR race. Good luck to Jamie and all of my Chip Ganassi Racing teammates running the
blue circle wheels
this weekend!
I also have some special guests from
Axis Wake Research
here this weekend, who I met while taking a tour of their factory late last year. They are taking a lap of Barber Motorsports Park this morning in the
Honda Civic IndyCar Pace Cars
, so they'll get a sense of what I'll be experiencing during the race later today.
I'm heading to chat with my engineers for a bit before the drivers meeting at 9:30. Check out warm-up at 11 a.m. Central at
racecontrol.indycar.com
!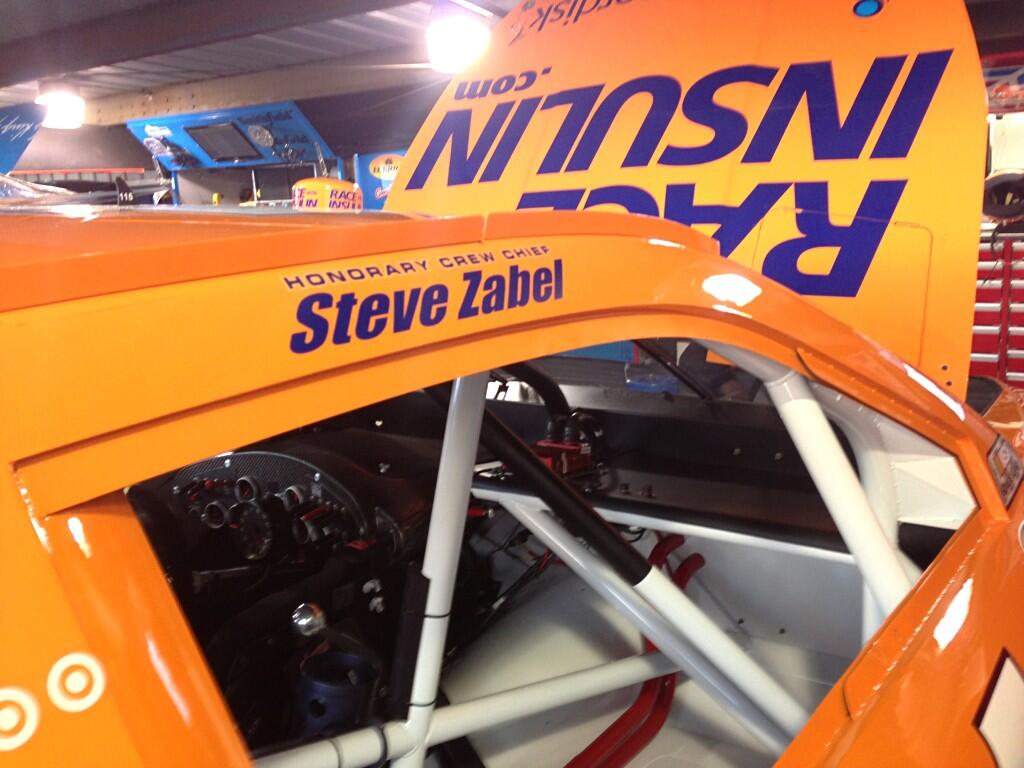 No. 1 honorary crew chief! (via @EGRTeams)
Saturday, April 6
2:30 p.m.
It was a pretty good day for the Novo Nordisk Chip Ganassi Racing team! We had a lot of traffic during the practice yesterday afternoon and this morning, and we didn't get the lap in that we wanted. But looking at the sectors, we knew the car was pretty good. In the first run, I got the gap where I needed to, got a good lap time in, and came in. I was a little surprised that the round of 12 wasn't tighter lap time-wise. To only have done a 67.2 lap time, I think the track got hotter. The No. 83
NovoLog FlexPen
car was pretty good. We spent yesterday working mostly on race day setups. Come tomorrow, we have a bunch of tires on hand and we'll be in pretty good shape when the race starts.
After qualifying and the post-qualifying press conference, I headed out to the Fan Village to meet some fans at the
Novo Nordisk FlexPen Tunnel
. We always have great support here in Barber, so thanks for coming out!
Tonight I'm headed to a dinner with local Honda dealers, and I'll get to bed early for the race tomorrow. If you're watching from home, tune in at 2 p.m. Central on
NBCSN
!
Pre-qualifying, via @CGRteams
At the Novo Nordisk FlexPen Tunnel
9:25 a.m.
Not a bad start for morning practice. We made a couple of adjustments so didn't get a lot of laps in, but I think we'll be ready for a good qualifying run later on.
7:00 a.m.
It's an early morning start for us today, with practice beginning at 8. A bit chilly but I know it'll warm up later today. I'm grabbing breakfast with my friends at Honda hospitality then a quick chat with my engineers before we head out on track.
Make sure you're following me on Twitter
@racewithinsulin
for more updates!
Friday, April 5
5:30 p.m.
We had a really good day. It was awesome to talk about the
Race With Insulin Unites
program with my teammates and show off the inverted color-scheme for this weekend as well as the blue wheels across the Ganassi cars. I think, overall, we were pretty good in practice. We had the fourth-quickest time this morning and then in practice two we got caught up with some yellows and some traffic. We have a couple of different directions with the car setup to go over tonight. I'll think we'll be in good shape when it comes time to qualify tomorrow morning.
I'm off to do a couple of interviews this evening before dinner. Join me in cheering on the entire Team Ganassi this weekend as we show off the blue wheels for diabetes awareness!
Team Ganassi talking diabetes awareness
Blue wheels looking good!
Learn more at racewithinsulin.com!
10:30 a.m.
The sun is trying to come out here this morning at Barber! I got here a couple of hours ago for an fun interview with Fox 6. Can you pick me out in this photo? Yes, Josef and I had a few props from the
Honda H-Block
and played a little joke on James.
What's wrong, James?!
I'm spending some time with my engineers this morning before a press conference with my Ganassi teammates and Novo Nordisk at noon.
If you get a chance, check out
this piece from the Birmingham News
!
Thursday, April 4
2:00 p.m.
Good news--the rain (mostly) let up for the track walk! It looks like we'll have better weather for the rest of the weekend, so we're in for a good race. Hopefully we'll be able to use what we learned in testing here at Barber last month and make even more progress.
If you haven't yet, check out this video below to learn more about the
Race With Insulin Unites
initiative. The whole Ganassi team has some cool stuff coming up this weekend that will showcase the program! Can't wait to see it all come together.
8:00 a.m.
I'm really looking forward to getting back to Barber Motorsports Park. We had a pretty successful open test there, made some improvements to the car, and found a good direction. Coming off St. Pete, we were encouraged by the pace and performance of the No. 83
NovoLog FlexPen
car and I know that the
Novo Nordisk Chip Ganassi Racing
team is ready to take that momentum and build it into a really good result this weekend!
I'll have some guests here this weekend from
Axis Wake
, who won a trip to the race
when I visited their factory in Tennessee
last December. I hope they enjoy seeing an IndyCar race weekend from a behind-the-scenes view as much as I enjoyed taking a tour of their facility!
Heading into the track now to spend some time with my engineers before the track walk at noon. Here's a schedule of the IndyCar action this weekend. Make sure you're on my race updates e-mail list (sign up
here
) to get a tune-in reminder each weekend!
Honda Indy Grand Prix of Alabama
All times Central. Timing and scoring for all on-track sessions available here.
Friday, April 5:
12:45-1:45 p.m. Practice
3:45-4:30 p.m. Practice
Saturday, April 6:
8-8:30 a.m. Practice
10:25-11:35 a.m. Qualifying (on
NBCSN
at 4 p.m. CT)
12:15 p.m. Appearance at the
Novo Nordisk FlexPen Tunnel
(in the
Red Diamond Fan Zone
)
1-2 p.m. IndyCar driver autograph session (in the
INDYCAR Fan Village
)
Sunday, April 7:
11-11:30 a.m. Warm-up
2 p.m. Honda Indy Grand Prix of Alabama (live on
NBCSN
)